Hello , we're Ivo and Kathy.

Since 1993 we're busy , educating and training our faithfull dogs.
At the beginning we had some bad luck , our first puppy got ill.
Then we've welcomed Shelsy , a labrador retriever . She achieved very well in obedience.
She passed away at the age of 13 .
We've adopted Fripon , a golden retriever , from a shelter place . He became 8 .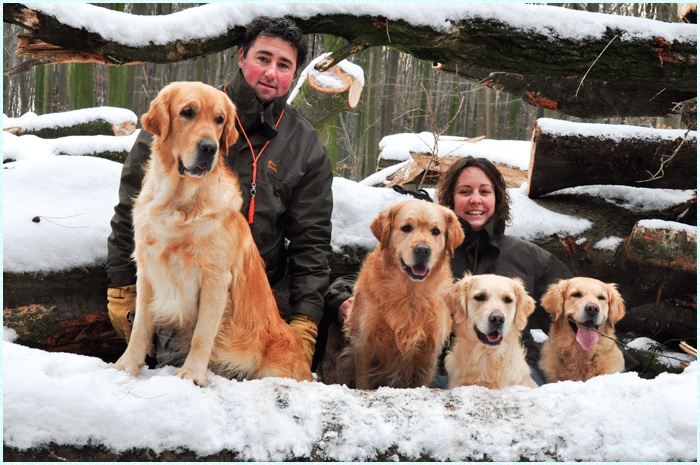 We can not live without a golden , we admired them for their soft character and their lovely view.
Cayto Of Sweetmeats became a member of our family.
He 's very sweet and does well in obedience.
We try to train a few times a week.
Now and then we bring him out for a show.
He is now 7 years old and equally folly as before..

In 2003 , we've bought a girl-friend bitch from England , called Rayleas Mirabelle.
Cayto and Mirabelle became friends rapidly.
She , Rayleas Mirabelle , achieves very well at contests in obedience and on show.

In 2008 we made a first litter with Mirabelle.
We were instantly in love with our puppies, so Hayissa joined us.
She is our first golden by our kennel name.

Like we had another boy from it, our eyes fell on the kennel Stanroph in England.
Early 2009 Moyito came into our lives.
He is a very sweet teddy bear.



We are very happy with our beloved Goldens.
We give basic obedience lessons.
We use reward-oriented techniques.
We offer our services to have a nice , fresh-washed and well-groomed golden.